Our Goal: Total Patient Satisfaction!
Our podiatrists aren't satisfied with good patient care. We work tirelessly because we want to provide you with excellent patient care. The doctors at Foot HealthCare are highly skilled and are leaders in advanced foot and ankle care in the state of Michigan. Give us a call today, we are here to help you right now.
A Family of Podiatric Physicians Dedicated to Excellence and Integrity
"We view the relationship that we have with our patients as a sacred trust. We work hard every day to deserve that trust."
MOST REQUESTED PROCEDURES AND SERVICES
My name is Jean & I am 84 years old. I had surgery on my left foot (hammer toe) and four months later had a bone spur removed from my right foot. I was in pain with both for a long time before my surgeries. I didn't have any pain at all with either operation. After my first surgery I came home with a prescription for Darvocet and didn't take even one after either surgery. My feet feel great now and I am able to walk 3 or 4 times a week like I use to. I never dreamed I would go through the…
After three other foot doctors, the doctor thought to biopsy my toenail fungus and realized it was a yeast condition. With new medicatoin and treatment. After a 3 year struggle, my nails have improved in the last few months and I am thrilled. They haven't been this great in four years. I am also impressed that before doing an surgerical procedure on my toes, the Dr. had me take a Padnet test to make sure my circulation was good for healing. She works with caution, care, and a true sense of …
Let me start saying that Dr. Mozen has the best staff I have ever came in contact with, and then I met him his outgoing personality for a doctor is awesome. Dr. Mozen did surgery on my fifth toe which was hammer toes the surgery was success there was no pain after it was over with, my feet had been in so much pain for about two years my close friend referred me to him and that was the best thing that I did. I will definitely tell anyone who have foot problems to go to Dr. Mozen he is an awesome …
Dear Foot Healthcare Associates Doctors and Staff: I would like to thank you all for being so kind to my family and I during my surgery and my visits to your office. The surgery on my foot went very well and my foot feels 100% better, I no longer trip over invisible bumps on the floor LOL!. There is no pain in my foot and I have no more back pain, it feels good to be able to take walks without any pain. I feet like I could run a marathon (NOT). Thank you so much,
Dear Dr. Mozen: Thank you for your tremendous skill and kindness before, during and following my foot surgery. Your talent and caring manner is a credit to the medical profession. Your talent and caring manner is a credit to the medical profession. My Sincere thank you to your staff for the outstanding care I received each and every time I came into the office. I never thought I would say "I love going to the doctor!" There is such a warm feeling each time I walk through the door. M…
I DESIRE TO TAKE THIS OPPORTUNITY TO THANK DR. MOZEN AND STAFF FOR A SUCCESSFUL SURGERY AND POST-OPERATIVE FOLLOW UP. IT IS CLEAR AND EVIDENT THAT DR. MOZEN DEMONSTRATES THE HIGHEST LEVEL OF PROFESSIONALISM COUPLED WITH THE MOST ADAPT ABILITIES AS A SURGEON. HE WILL TAKE THE TIME TO ANSWER YOUR QUESTIONS BEFORE AND AFTER THE SURGERY. I THANK DR MOZEN FOR EVERY PAIN-FREE STEP I TAKE AND WOULD HIGHLY RECOMMEND HIM TO ANYONE WHO IS IN NEED OF HIS SERVICES. THANKS AGAIN!!
Dear Dr. Mozen: I was in terrible pain for such a long time. I had an ingrown toe nail as you know. I was treated with such kindness and care and given re-assurance of no pain. After the pain free procedure, I could get around and sleep. What a blessing!!!!!! Word's can't express my thankfulness for taking care of the pain and helping me get around again. Best wishes
I was referred to Dr. Mozen's office by my general physician as well. The staff is very nice and Dr. Mozen very easy going and kind. All questions were answered (I was shown 2 videos on foot issues) and after x-rays it was determined that I had bone spurs on 2 of my toes. The surgery went very well-I never even took a pain pill after! The incisions were on the tops of my toes so there was very little stress/pressure even when I walked. Stitches came out 10 days ago and I'm feeling great. I w…
My name is Lauren and on April 8th of last year, Dr. Mozen performed a bunionectomy on me. Like many of you I was very skeptical and frightened to have this procedure done. Everyone I had spoken with who already had the surgery told me how I would regret ever getting it done. That it would be the most painful thing I would ever have done and my foot would only be worse after. They could not have been more wrong. My surgery could not have gone smoother and I never had one moment of discomfort or …
Dear Foot Healthcare Associates Doctors and Staff: As a new patient hat had a previously bad experience I would like to thank you all for your compassion and care. It was wonderful to feel that I was important. Thank you
Educational Videos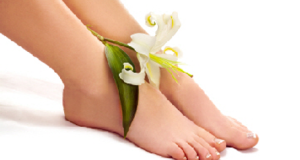 Learn about common foot and ankle injuries in our video series. We also discuss early warning signs as well as prevention techniques you can use.
Shockwave – As Seen on TV