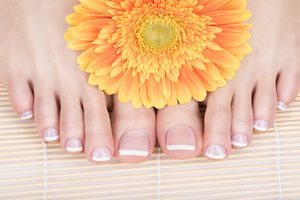 Warmer temperatures make people bring out the sandals and flip-flops, but common foot ailments will stop anyone from enjoying their favorite summertime activities barefoot. With proper care, existing ailments can be treated and prevented, leading to smooth, attractive feet all summer long.
Keeping Feet Healthy in the Heat
As with other parts of the body, the feet need attention to maintain good health. The American Podiatric Medical Association suggests these tips for keeping feet healthy in the summer heat:
1. Drink Water. Hydration helps fight swelling in feet and ankles while aiding in overall health.
2. Maintain Blood Circulation. Blood delivers oxygen and nutrients to all parts of the body to help keep them healthy. Blood circulation can be encouraged by stretching the calves, flexing the ankles, and wiggling the toes.
3. Apply Sunscreen. Feet are often forgotten when applying sunscreen but they are just as susceptible to sunburn as the rest of the body. It should be evenly applied across the top and on the ankles to ensure complete coverage. Users should remember to reapply after swimming.
4. Make Time for Pedicures. Proper foot care is critical for foot health. Basic pedicures require toenail clippers, pumice stone, an emery board, and moisturizer. Nails should be clipped within 1/8 of an inch of the nail bed, using the emery board to smooth any ragged edges that may break the skin later. The pumice stone will remove unsightly calluses while the moisturizer will keep the skin hydrated and smooth.
5. Wear Proper Protection. The proper footwear is required for different occasions. Always pack extra sneakers and water shoes to be prepared for any occasion. Wet sneakers should be allowed to dry thoroughly before wearing again.
6. Prevention is Key. Wear flip flops in the pool or other public places to reduce the risk of contracting ringworm, athlete's foot, and other contagious infections.
7. First Aid Supplies. Carry a small first-aid kit to treat minor abrasions or cuts to prevent infection and to help with keeping feet healthy. The first-aid kit should include bandages, antibiotic cream, blister pads, Advil, and silvadene cream or aloe vera for sunburns.
Maintain Healthy Feet All Year Long
Foot health should be maintained all year long but this can be difficult with existing conditions or injuries. When foot health requires more than simple maintenance, professionals should be consulted as soon as possible for treatment.
The trained staff at Michigan Podiatry can treat an assortment of foot ailments from one of their three locations, offering in-office treatments and emergency care services. Michigan Podiatry can treat athlete's foot, warts, nail fungus, diabetic foot care, and many other issues.
Contact Michigan Podiatry to schedule a consultation. A caring professional can create a treatment plan for keeping feet healthy all year long.