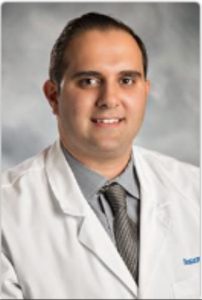 Dr. Bruce Kallou, one of the Top Podiatric Foot and Ankle Surgeons in the Southfield – Livonia- Novi area, has joined our team of doctors and staff at Foot Healthcare Associates in Livonia, Novi, and Southfield.
Dr. Kallou brings unique skills and an unmatched commitment to providing the most exceptional and compassionate foot care to his patients.  Dr. Kallou has been recruited to many medical practices and hospitals around the country; he chose Foot Healthcare Associates because of our reputation as leaders in Foot and Ankle Surgery as well as the comprehensive "Patient Centered" foot and ankle care we provide.
Dr. Kallou has been in private practice after completing his surgical residency in foot and ankle surgery at Loyola University Medical Center just outside of Chicago in June of 2016.  He obtained his Doctor of Podiatric Medicine from The Rosalind Franklin University of Medicine and Science in 2013.
Growing up in the area, Dr. Kallou always knew he would return to service the community where he grew up.  He graduated from Avondale High School, and from a young age knew he wanted to be a doctor.   He attended Oakland University in Rochester, Michigan where he graduated with a Bachelor of Science in Biology
Loyola University Medical Center, where doctor Kallou received his surgical training, is known as a center of excellence for some of the most advanced and best treatment for complex foot and ankle conditions.  His diversified training included pediatric lower extremity conditions, sports medicine and diabetic limb salvage.  He has a passion for helping diabetics keep their feet healthy and avoiding amputation. Dr. Kallou's leadership was recognized at Loyola as he was chosen to be the "Chief Resident" during his training.
Dr. Kallou's personal interests include current events, sports, yes he is a diehard Detroit sports fan, reading, and visiting his local gym in his free time. He will occasionally go back to Chicago just for the exciting restaurant scene; locally he enjoys exploring the food culture right here in the Detroit area.  He was married to the love of his life, Arjan, in October of 2018.
EDUCATION
Residency: Chief Resident
Loyola University Medical Center, Maywood, IL/Edward J. Hines Veterans Administration Hospital – PMSR 36
July 2013 – June 2016
Dr. William M. Scholl College of Podiatric Medicine at Rosalind Franklin University, North Chicago, IL – Doctor of Podiatric Medicine, 2013
Oakland University, Rochester, MI – Bachelor of Science, 2007
Major: Biology, Pre-Med
LICENSURE/CERTIFICATION
MI Podiatric Physician Permanent License- 2017-current
Board Certified with American Board of Podiatric Medicine- November 2017
Board Qualified with the American College of Foot and Ankle Surgeons- March 2017
NBPME Boards Part III – Passed, December 2014
NBPME Boards Part II – Passed, January 2013
NBPME Boards Part I – Passed, July 2011
PROFESSIONAL ORGANIZATIONS
Associate Member, American College of Foot and Ankle Surgery – 2009-Present
Member, Illinois Podiatric Medical Association – 2009 – 2017
WORK EXPERIENCE/EMPLOYMENT
Foot Healthcare Associates Livonia/Novi/Southfield, MI-anticipated start 07/1/2018
Troy Podiatrist P.C./Troy Beaumont Hospital Troy, Mi- General/Surgical Podiatrist- 08/2016 to 06/22/2018
Acorn Podiatry, Oak Park, IL- Extern/Internship, 2010-2012
VOLUNTEER EXPERIENCE
Libertyville Arthritis Walk Logistics Committee Member – 2009-10
Foot Screenings, Highland Park, IL – 2010
Midwest Podiatry Conference, Chicago – 2009-2011
24th Annual Dance for Diabetes events coordinator and planner- 2010-2011
Miles for Smiles 5K run/walk, Forest Park, IL-2009-2010
RESEARCH
Meta-Analysis, Level II- "Meta-Analytic Review of Ultrasound and Magnetic Resonance Imaging for Diagnosing Tendon Tears of the Foot and Ankle"
Case Study- "Atraumatic Avascular Necrosis of the First Metatarsal Head in a 17-year-old Female Sickle Cell Patient"
HONORS/ACTIVITIES/OTHER
Dance For Diabetes/American Diabetes Association Fundraiser- Board member- 2010
Student Scholar Award, Oakland University-2004
Chaldean Student Scholar Award, 10th place of 256 applicants, from Chaldean Federation of America in Southfield, MI- 2003
Fluent in Aramaic/Neo-Aramaic(Modern Chaldean)
Raised in the Metro-Detroit area since 1990.
OUR DOCTORS
Dr. Kallou practices out of Southfield, Novi and Livonia but provides the best foot and ankle treatment – surgery of all types to all patients in all areas including Livonia, Northville, Farmington, Farmington Hills, West Bloomfield, Redford, Westland, Garden City, Dearborn Heights, Canton, Plymouth, Wayne, Novi, Southfield, Walled Lake, Wixom, Commerce, Milford, Highland, White Lake, Waterford, South Lyon, Brighton, Howell, Whitmore Lake, Lyon Twp, Oak Park, Royal Oak, Ferndale, Hazel Park, Madison Heights, Clawson, Centerline, Lathrup Village, Detroit, Berkley, Birmingham, Bloomfield Hills, Bloomfield Twp, Troy Pontiac, Rochester Hills and all other Metro Detroit areas.
Our doctors also service Southfield, Livonia, and Novi area hospitals:
Southfield Area Hospitals:
16001 W Nine Mile Rd
Southfield, MI 48075
28050 Grand River Ave
Farmington Hills, MI 48336