Bunion Testimonials
Best Novi Bunion Doctors
More than half the women in America have bunions, a common deformity often blamed on wearing tight, narrow shoes. Bunions cause the base of your big toe (Metatarsophalangeal Joint) to enlarge and protrude. The Best Novi Bunion Doctors can help you!
The skin over a bunion may be red and tender. A bunion can be acquired through time or it can be congenital (you've gotten it from your family).
Bunion issues can cause wearing shoes to become painful. This joint flexes with every step you take. The bigger your bunion gets, the more it hurts to walk. Bursitis may set in. Your big toe may angle towards your second toe, or even move all the way under or over it. The skin on the bottom of your foot may become thicker and painful.
Pressure from your big toe may force your second toe out of alignment, sometimes causing it to overlap your third toe. If your bunion becomes too severe, it can even cause difficulty in walking. Your pain may become chronic and you may develop arthritis.
Most bunions can be treated conservatively with wider & softer shoes, pads to relieve the pressure and/or medications. If these corrective measures do not help then surgical treatment is indicated.
Bunion surgery, or bunionectomy, realigns the bone, ligaments, tendons and nerves so your big toe is brought back to its correct position and the bump on the inside of the joint removed. Many bunion surgeries are performed on a same-day basis (no hospital stays) using a local anesthesia. During your recovery it is common to have pain and swelling. This swelling and stiffness may be persistent for several months.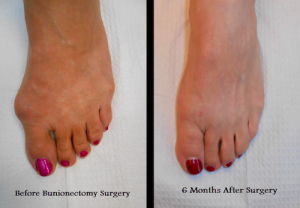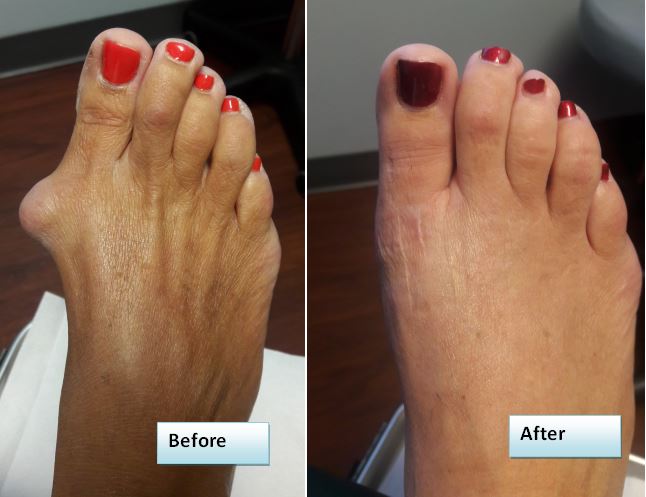 Contact Our Foot Care Specialists Today
If you need treatment for bunions, call our Novi, Livonia or Southfield office at 248.258.0001 to schedule an appointment. Bunion treatment is covered by many health insurance plans.
The Best Novi Bunion Doctors provide foot and ankle treatment and surgery to patients in Livonia, Northville, Farmington, Farmington Hills, West Bloomfield, Redford, Westland, Garden City, Dearborn Heights, Canton, Plymouth, Wayne, Novi, Southfield, Walled Lake, Wixom, Commerce, Milford, Highland, White Lake, Waterford, South Lyon, Brighton, Howell, Whitmore Lake, Lyon Twp, Oak Park, Royal Oak, Ferndale, Hazel Park, Madison Heights, Clawson, Centerline, Lathrup Village, Detroit, Berkley, Birmingham, Bloomfield Hills, Bloomfield Twp, Troy Pontiac, Rochester Hills and all other Metro Detroit areas.
AREA HOSPITALS:
47601 Grand River Ave
Novi, MI 48374
37595 W Seven Mile Rd
Livonia, MI 48152
16001 W Nine Mile Rd
Southfield, MI 48075
3601 W 13 Mile Rd
Royal Oak, MI 48073
28050 Grand River Ave
Farmington Hills, MI 48336
36475 Five Mile Road
Livonia, MI 48154
26750 Providence Pkwy
Novi, MI 48374