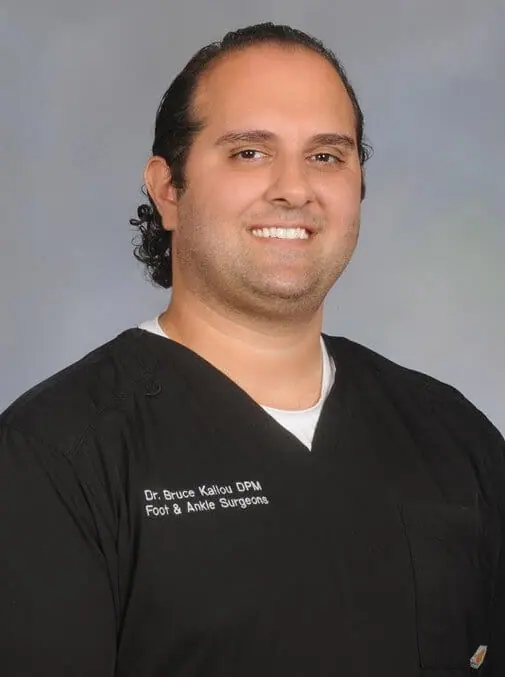 Dr. Bruce Kallou, one of the Top Podiatric Foot and Ankle Surgeons in the Southfield – Livonia- Novi area, has joined our team of doctors and staff at Foot Healthcare Associates in Livonia, Novi, and Southfield.
Dr. Kallou brings unique skills and an unmatched commitment to providing the most exceptional and compassionate foot care to his patients. Dr. Kallou has been recruited to many medical practices and hospitals around the country; he chose Foot Healthcare Associates because of our reputation as leaders in Foot and Ankle Surgery as well as the comprehensive "Patient-Centered" foot and ankle care we provide.
Dr. Kallou has been in private practice after completing his surgical residency in foot and ankle surgery at Loyola University Medical Center just outside of Chicago in June of 2016. He obtained his Doctor of Podiatric Medicine from The Rosalind Franklin University of Medicine and Science in 2013.
Growing up in the area, Dr. Kallou always knew he would return to service the community where he grew up. He graduated from Avondale High School and knew he wanted to be a doctor from a young age. He attended Oakland University in Rochester, Michigan where he graduated with a Bachelor of Science in Biology
Loyola University Medical Center, where doctor Kallou received his surgical training, is known as a center of excellence for some of the most advanced and best treatments for complex foot and ankle conditions. His diversified training included pediatric lower extremity conditions, sports medicine, and diabetic limb salvage. He is passionate about helping people with diabetes keep their feet healthy and avoid amputation. Dr. Kallou's leadership was recognized at Loyola as he was chosen to be the "Chief Resident" during his training.
Dr. Kallou's personal interests include current events, sports, yes he is a diehard Detroit sports fan, reading, and visiting his local gym in his free time. He will occasionally go back to Chicago just for the exciting restaurant scene; locally he enjoys exploring the food culture right here in the Detroit area. He was married to the love of his life, Arjan, in October of 2018.