–>
[typography font="Sunshiney" size="52″ size_format="px" color="#b45ed6″]Heel Pain in Children[/typography]

By:  Dr. Sophia Barnett, DPM

[dropcap]K[/dropcap]ids today have many challenges but heel pain should not be one of them.  The most common cause of heel pain in children 8 to 15 years old is Calcaneal Apophysitis or Sever's Injury.  There is inflammation at the heel's growth plate which may be caused by repetitive microtrauma from the pull of a tight achille's tendon.  This type of pain is usually seen in young athletes and can continue for months.  Your child may complain of heel pain on one or both sides, limping, or pain when the heel is squeezed.  There may also be pain when running, jumping, and playing sports. You may also notice them walking on their toes.

There are many factors that can contribute to calcaneal apophysitis including tight leg muscles, improper footwear, participating in sports with repetitive impact, and bone growth exceeding muscle and tendon growth which occurs during a growth spurt.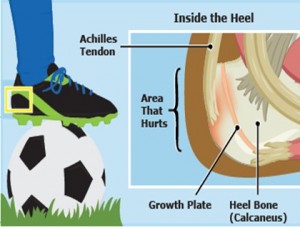 Fortunately, there are various successful treatment options for calcaneal apophysitis and you should take your child to see a Foot Specialist or Podiatrist if they are experiencing these signs and symptoms.

We commonly treat this condition at Foot Healthcare Associates so if you have questions, feel free to email me directly at drsbarnett@michiganpodiatry.com, or set up appointment at Foot Healthcare Associates by calling 248-258-0001.
Have a Footastic Day!

References:
Perhamre,S; Lazowska, D; Papageorgiou, S; Ludin, F; Klassbo, M & Norlin,Rolf.  Sever's Injury. JAPMA, 2013, 103: (5) 361-368.

  –>[box type="info" border="full"]






Dr. Sophia Barnett, DPM
Foot Healthcare Associates
Offices in Livonia, Novi, & Southfield
(248) 258-0001 [/box]