Sole-Fill™
Sole-Fill
Testimonial for Sole-Fill; resolved pain to ball of foot pain, 70 y/o Male
Testimonial for Sole-Fill; resolved pain to ball of foot pain, 60 y/o Female
Testimonial for Sole-Fill; resolved pain to ball of foot pain, 30 y/o Female
Sole-Fill™ is an exciting, in-office procedure that uses biocompatible absorbable material to fill below the skin. It is especially helpful in removing pain in areas where there is less fat or prominent bony areas on the foot, such as the ball of the foot.  Your own personal foot cushions!
In our office, Dr. Mozen is well trained on the indications and they will tailor a treatment plan for you. Dr. Mozen is a member of the International Aesthetic Foot Society and was trained by the founder of the procedure, Dr. Suzanne Levine.
Our office is the only office in the entire state of Michigan that offers the treatment plan, as created by Dr. Suzanne Levine.
The material used for the Sole-Fill™ procedure is biocompatible and the benefits can last up to 12 months. With subsequent treatments, pain relief and cushioning will often last much longer. Patients have had extremely great success with the Sole-Fill™ procedure as they are able to experience relief without surgery and begin to enjoy the shoes and activities they LOVE!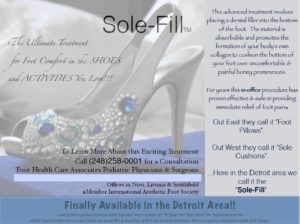 Frequently Asked Questions
What material is used in Sole-Fill™?
– The procedure utilizes safe biocompatible and absorbable material that promotes the foot's own collagen repair and enhances your body's ability to create more "foot cushions" on the bottom of your feet.  Sole-fill has been in use successfully since 1999.
What is the cost of the procedure?
– The cost of the procedure is anywhere from $900- $1200 per foot, depending on how much foot cushions material is needed to complete the Sole-fill procedure.
 Who can have the Sole-Fill™ procedure?
– Healthy adults without known contraindication to the sole-fill injection material may qualify for the procedure.
What is the Sole-fill procedure, exactly?
-The procedure is a sub-dermal filler injection.
How long does the treatment last?
-Most patients experience relief for many years while some may experience permanent relief. Few patients may require additional treatment in one year to achieve long-term relief.
Have further questions?  Call today or request an appointment.