In lieu of wa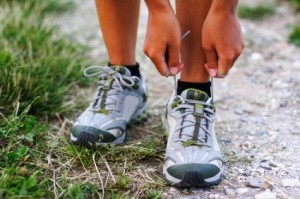 rmer weather and the upcoming running season, shoe experts from shoe store Running Wild bring to light some much needed advice in finding the perfect shoe: Get fit for your shoes, know your training level, bring your old shoes, and wear socks with synthetic fabric to avoid blisters.
Getting fit for your shoes is important, as simply selecting a shoe from the "running" section of a store may not leave you with shoes that best fit your needs. Knowing information such as how many miles a week you run, the type of races or running you will be doing, and the types of injuries you have had in the past can help narrow your choices and get you the right pair of shoes.
If you are a runner, wearing the right running shoe is essential. For more information, see one of our podiatrists from Foot HealthCare Associates. Our doctors can treat your foot and ankle needs.
Choosing the Right Running Shoe for Your Foot Type
To increase performance and avoid the risk of injury, it is important to choose the right running shoe based on your foot type. The general design of running shoes revolves around pronation, which is how the ankle rolls from outside to inside when the foot strikes the ground.
Neutral runners are able to choose from a wide variety of shoes, including minimalist shoes or even go barefoot
Runners who overpronate, or experience an over-abundance of ankle rolling, should choose shoes that provide extra motion control and stability
Runners who underpronate, or supinate, have feet that have high arches and lack flexibility, preventing shock absorption. They require shoes with more flexibility and cushion
If you have any questions, please feel free to contact one of our offices located in Michigan. We offer the newest diagnostic and treatment technologies for all your foot care needs.
Read more about Choosing the Right Running Shoe