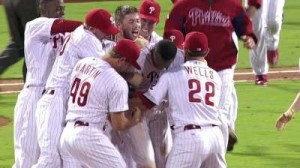 Phillies outfielder Domonic Brown sustained a painful Achilles injury that took him off the field during the game against the Braves. While manager Ryne Sandberg expects Brown back before the end of the month, the organization will be hesitant not to hurry him back.
"He's not doing any baseball activities," Sandberg said, "He's on a complete shutdown for a number of days. No set amount. Just to get any swelling or soreness out of the Achilles area. Just to get that all behind him. Once he gets to that point, he'll get on the field to do some things and we'll monitor him closely and see when he's actually ready to get back into a game. We'll take it slowly." Hopefully, Brown will be able to heal quickly and return to the field soon.
Dealing with an Achilles tendon injury can be frustrating and a painful ordeal. However, an injury like this can be managed and taken care of by a podiatrist like Dr. Neal Mozen of Foot Health Care Associates. Dr. Mozen can examine your Achilles tendon as well as other foot and ankle injuries, and work with you to provide the appropriate treatment options.
Just What Is the Achilles Tendon?
The Achilles tendon is the strongest tendon in our bodies. As the tendon that connects the heel to the calf muscles, the Achilles tendon helps with even the most basic movement in the legs such as walking. As a result, the Achilles tendon can risk incurring Achilles tendinitis or even a rupture. Those especially at risk include people who overexert themselves during physical activity, namely athletes.
Achilles Tendinitis Symptoms Include:
Inflammation
Increased Blood Flow
Tendon Thickening
Slower Movement Time
Pain ranging from dull to severe
Achilles Tendon ruptures are caused by the tendon 'snapping' or ripping. There are often more painful and immediate as opposed to Achilles tendinitis. There are surgical and non-surgical methods in treating Achilles tendon ruptures, with recovery time possibly taking up to a year.
While no injury is completely avoidable, there are preventive measures that can lower your chances. This includes:
Incorporating strengthening exercises to your workout regimen such as squats and leg presses
Stretch your tendon before and after exercise
Wear comfortable, fitted footwear that is occasion-specific
And of course, if you believe you have injured your Achilles tendon be sure to visit a podiatrist immediately, as they can help diagnose and address your problem.
To learn more about Achilles Tendon, please follow link below.
If you have any questions feel free to contact one of our offices which are located in Southfield, MI, Livonia, MI, and Novi, MI.  We offer the newest diagnostic and treatment technologies for all your foot and ankle injuries.
Read more on Achilles Tendon.